Why get an expert to manage compliance with the WEEE Directive?
EU legislation requires that Directive 2012/19/EU be transposed into the national law of each Member State.
The principles of the directive apply to EU countries (required in particular to attain specific collection and recycling targets) as well as to parties under obligation such as producers (entities placing equipment on the market in a country for the first time), distributors, end users, etc.
Compliance management is the main challenge for producers, especially those selling across several countries.
This article lists the reasons why a compliance hub or expert can facilitate and centralize compliance for businesses.
WEEE compliance is mandatory
Nowadays, end-of-life compliance forms part of a company's global compliance management obligations.
Once a company places an item of electronic and electrical equipment (EEE) on the market for the first time, whether by means of distance-selling, importing or by simply manufacturing the device, the requirement for compliance management comes into play.
This is mandatory and subject to checks and controls, companies risk:
fines for non-registration

fines for absence of relevant marking

fines for not reporting data correctly

fines for not offering a take-back and recycling solution

ethical and other issues impacting on their corporate image.
Moreover, compliance failure can be a big STOP sign when it comes to RFQs (Request for Quotations) and tenders.
In this way, WEEE compliance becomes a key component of the criteria for selecting business partners and providers.
WEEE compliance must be implemented in all EU countries
WEEE compliance is mandatory in all EU member states for companies placing products on the market.
Compliance is usually organized with the support of local compliance and take-back schemes.
There are a number of compliance schemes in each country so that it is a question of identifying and selecting an appropriate compliance partner according to capacity, pricing, contractual arrangements and business profile.
Regardless of whether they have local branches or subsidiaries, companies selling across a number of markets will need to establish compliance and contract in several countries simultaneously.
There is no harmonization mechanism, either across the EU or globally
Although the EU has harmonized the general movement of merchandise, WEEE directive implementation is specific to each country. It is possible to organize WEEE compliance across all EU member states, but steps still need to be taken individually by country.
The obligations are often similar from one country to the next but the methodology for compliance can vary:
some countries require compliance to be managed via a compliance organization or compliance scheme
some countries require producers to contract with compliance schemes as well as with the authorities
some countries only permit compliance to be established directly with the authorities

some countries impose visible fees whereas others prohibit them

reporting obligations can differ from one country to another but producers should be able to prepare data according to specific country reporting requirements

compliance costs and invoices can be issued at different frequencies, with different prices and in different formats.
The WEEE directive is not harmonized among EU countries and one can appreciate that there are differences of product scope, prices, contracting etc. across the globe, notably between Canada, the EU, USA, Australia, China, etc.
The administrative burden and multiplicity of compliance organizations
Registering and contracting across several countries at the same time requires regular contact with appropriate organizations and the facility to handle multiple contracts and sets of administrative paperwork.
Information is mainly provided in local languages or in English where possible.
Companies will need to be prepared to interact with the authorities or equivalent bodies, compliance organizations, authorized representatives, financial guarantee providers, etc.
Thus, a company might have to set on as many vendors as necessary and given the number of countries at stake for WEEE, this can quickly reach more than 20 and even up to 50 providers.
Compliance and recycling hubs act as a one-stop service, saving you time
Time spent with an expert or dedicated service provider saves you time since any questions you may have will tend to fall within their day to day remit.
If you can address questions about country specifics to a central point, you avoid multiple contacts for the same question across several countries.
Experts are specialized in their domain of competence. They are dedicated to understanding a problematic and can provide a prompt and simplified solution. General questions can be quickly and easily addressed whilst complex questions go to the heart of their competencies. This is why WEEE experts are experts. They may well also be experts in battery and packaging, Extended Producer Responsibility, circular economy models, reverse logistic, recycling, etc.

Compliance and recycling hubs can provide legal overviews and recommendations
Each company has its own way of doing business, its own market access strategies, its own sales channels, business partners, business organization, etc.
Questions that arise from compliance set-up can be challenging, sometimes even for experts.
They have the capacity to handle a specific need or issue: What are the specificities of a given product or sales channel? Which products are in scope or out of scope? Which companies are considered to have obligations in a specific country? Can I take over their obligations?
An expert will guide you, providing reliable answers and solutions based on their own expertise or with legal input.
They will help you to reach compliance and benefit from compliance advantages.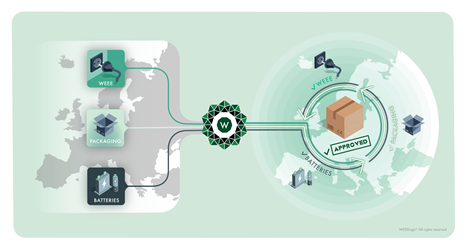 Experts can simplify administrative proceedings and centralize reporting and payments
WEEE compliance needs to be organized on a country-by-country basis. The selection of appropriate country compliance support organizations is not an easy task. Experts are dedicated to establish, maintain and update their network for the benefit of their clients.
Compliance and recycling hubs enable you to confront and resolve your multi-country challenges centrally. Of course, compliance is organized in each country but you interact with just one entity. The compliance hub coordinates all proceedings for you, facilitates contracting and obtaining overviews.
Linking up with an expert is sometimes the easiest and safest way to deal with legal problematics.
In the WEEE field, legal issues can be simply administrative but are also frequently operational matters when it comes to organizing take back and recycling.
In essence, compliance and recycling hubs provide safe and easy compliance.
Romain Letenneur