Who is a WEEE Producer?
According to the WEEE directive, a WEEE producer is a business entity in a member state that has a specific status according to the way it is constituted and its business relationship with suppliers and clients in this member state.
To identify a WEEE producer in a member state, we need to:
Analyze its sales strategy and contracts
Identify how many business entities are involved in terms of sales
Clarify who invoices who.
How do we determine which entity is the WEEE Producer?
Please see the following examples using different types of industry and equipment. (To clarify what WEEE is, see our article 'What is WEEE?')
N.B. The term "established" as used in this article means a business that has been registered locally.
According to the WEEE directive and its national transpositions, in each EU member state producers are one of the following:
1: Manufacturer in a Member State
Companies established in Country A, manufacturing printing equipment in Country A and selling them in Country A.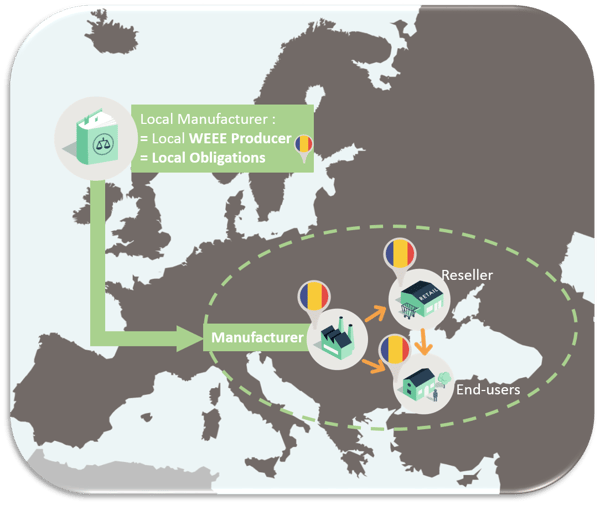 Example: a Romanian company manufactures printers in Romania and sells the printers to Romanian distributors, re-sellers, or end-users…
2: Importer from EU countries or non-EU countries
Companies established in Country B, importing air conditioning systems from a country and selling products for the first time in Country B.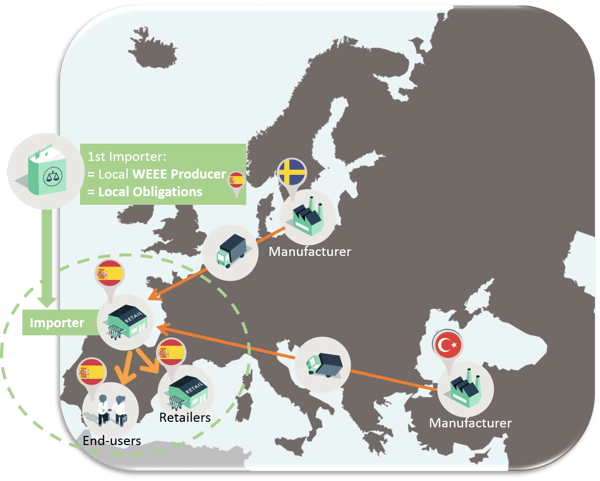 Example: a distributor located in Spain imports heat pumps and heaters from Sweden or Turkey or China and sells them in Spain to wholesalers, re-sellers, end-users…
3: Reseller in a country under his own name or trademark
As an exception to 1), Company Y is established in Country C and re-selling home automation products in Country C from Manufacturer X also located in Country C; the product manufactured by X is branded under the name of Y. Y sells the product in Country C.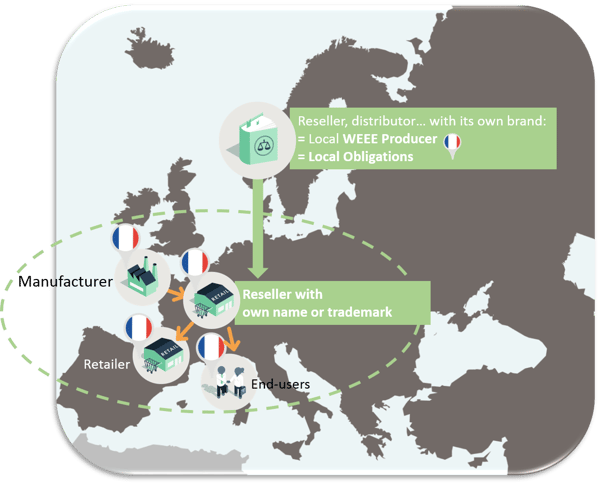 Example: a French reseller purchases cameras, electronic thermostats and sensors from a French manufacturer or provider. The products are branded under the re-seller's name or trademark therefore it is the re-seller's and the not the manufacturer's obligation to ensure compliance for the product in France.
4: Distant seller from EU countries or non EU Countries
Distance seller established in Country D sells IT and telecommunications equipment directly to end users in one or several European countries.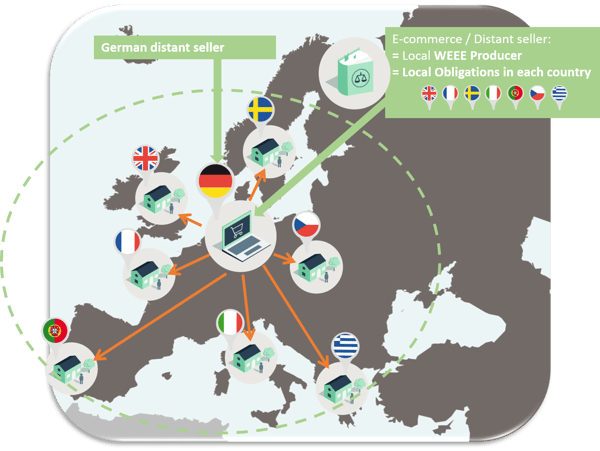 Example: An online distributor located in Germany, sells out of Germany computers, monitors, servers and routers to end users located in Czech Republic, France, Greece, Italy, Portugal and Sweden. The German online distributor must ensure compliance in Czech Republic, France, Greece, Italy, Portugal and Sweden.
If your company owns entities that have WEEE producer status in one or more EU member states, compliance of the entities is mandatory.
Romain Letenneur
Willing to clarify your situation or to order a legal assessment?